Poster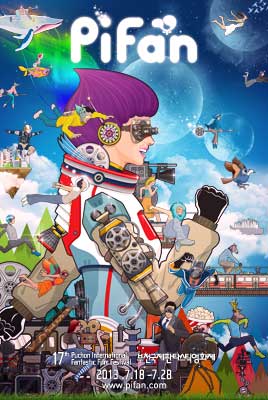 Download
The Official Poster for the 17th Annual Puchon International Fantastic Film Festival (PiFan) can be summed up as imaginative. This year's poster is by a influential artist, Yong Gyu Lee, who is the leading illustrator at Design Corps. Lee's work is exhibited all across Europe and Asia, but this year he put all his focus and effort on PiFan.
The poster focuses on a giant cyborg, whose dual nature represents the dynamic ways in which the participants will come to experience this year¡¯s festival. The subway train on the bottom of the poster is a small homage to all the workers who have installed the new subway line 7. This subway line completely eases the PiFan experience, as it has exits directly in front of every theatre. The artist¡¯s use of vivid colors and out-of-this-world characters, portray energy and excitement surrounding this event in Bucheon. Chimeras, free-falling people, and flying whales are all migrating towards the same direction; almost as if the giant cyborg is "pied piping" them to PiFan. The characters from land, sea, and outer space represent the diverse people PiFan attracts.
Last year, PiFan hosted over 70,000 people from all over the world, and this year, they are expecting no less. From people that dress up as their favorite animation characters, to the people that wear just shirt and ties, PiFan has the broadest spectrum of fans. Expect PiFan 2013 to hold its crown as the most genre-diverse film festival in Asia.