Poster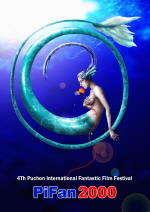 Download
The first film festival of the new millenium should show a vision of the future. PiFan(Puchon International Film Festival) intends to reject the division of extremes and contain a mildness that implies diversity through this poster. The overall image tears down a boundary between a reality and an imagination. The mermaid's breast is partly revealed, with the face neither feminine nor masculine.
The character is rather asexual. The features of the body with the webbed hands make identifying this figure ambiguous. It is impossible to describe whether the figure is human or fish. The image represents a dextrous human who has ability to swim freely in the world filled with information. The shadow in the water of the human face and torso, the angel wings above its head make ambiguous whether this figure is of the earth or of the sea.
The lower body stands out in a circle and reflects light, protecting the 'kebbi' and represents the great motherhood that should forever be preserved after a life is born. The artist has reinterpreted PiFan2000's theme of 'Freedom, Resistance, Rebellion' and created a beautiful image consisting of freedom from convention, a fantastic space resisting the frame of reality, and the creative rebellion that embraces destruction.