Poster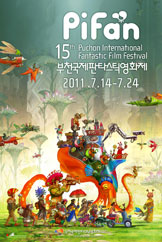 Download
"ON JULY 14th, JUMPING INTO THE OASIS CALLED 'PiFan'!"

"CHANGING PROSAIC PUCHON WITH FULL OF FANTASTIC SURPRISES."
The 15th Puchon International Fantastic Film Festival will promise you with flood of surprising and entertaining films and events everyday you ever dreamed of! PiFan2011 unleashes all your exhaustions from your daily lives inviting you to the world of ¡®Love, Fantasy and Adventure¡¯. PiFan changes the city with full of ordinary lives into a dream world, which will be the oasis so it can fulfill your thirst for fantasy.
The designer, Christian Lorenz SCHEURER, wanted describing not only the real world which is everyone can make their own movie by themselves but also filmmakers and audiences are gathering around at PiFan. He portrays they get together to celebrate the free exchange of ideas and creativity in his own way.
The poster, its many characters and sensible colors are in harmony, match with not only splendor festival but also playful, fantastic image of PiFan.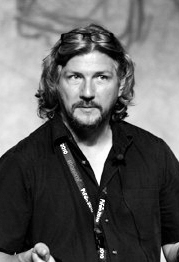 Design : Christian Lorenz Scheurer
2010 LIFT OFF: THE ART OF AIRSHIPS (group exhibition)
2010 PiFan-FANTASTIC FILM SCHOOL: 'SWISS DESIGN IN HOLLYWOOD' Group Exhibition / Presentation
2009 JAKARTA INTERNATIONAL FILM FESTIVAL (exhibition/presentation)
2009 'House, M.D'. Visual Development
2009 DUBAI DESERT ROCK FESTIVAL, Poster Art
2008 'THE GUARDIANS' (Animation Feature) , Visual Development
2007 THE WORLDS OF CHRISTIAN LORENZ SCHEURER (Solo Exhibition)
2007 'WOLFMAN' (feature film - BID), Visual Consultant
2006 'EVAN ALMIGHTY', 'THE GOLDEN COMPASS', 'SUPERMAN RETURNS' Visual Consultant
2006 'DIABLO III' Visual Consultant
2005 'LOST ODYSSEY' Visual Consultant
2004 'THE DAY AFTER TOMORROW' Visual Consultant
2003 'THE LORD OF THE RINGS: THE RETURN OF THE KING' (Video game) Art Director
2002 'ONE RAT SHORT' (animated short film) Production Designer
2000-01 'FINAL FANTASY: THE SPIRITS WITHIN' Conceptual Art
1997-99 'FINAL FANTASY: THE SPIRITS WITHIN' Conceptual Design
1995-97 'THE MATRIX','TITANIC','DARK CITY', 'THE FIFTH ELEMENT' Conceptual
1989 Phillip Morris Award for Graphic Novels