Poster
"Gaeby was Restored as a Tree"
Surviving a series of trials and errors, the Puchon International Fantastic Film Festival is now Asia's largest as it celebrates its 10th anniversary. The Film Festival previously primarily focused on surrealist imagery based on fantasy and adventure. The Festival's 2006 poster, however, aims to present fantasy and adventure in the more encompassing concept of love along with the new Festival Identity (FI), which was developed to embody the Film Festival's vision for its future.
The overall silhouette of the poster's design used the official symbol, Gaeby, as a motif. The poster depicts the concept that the sprouts ten years ago have grown up into a ten-year-old tree. The stretched-out branches symbolize the vitality of the tree, or the future of the film festival. The poster also depicts several symbolic animals along with the image of lovers, which express the Festival's theme of love through "fantasy and adventure." The stylized images of flower and film symbolize the Film Festival aim to give pleasure to its visitors.
Going beyond the concept of fantasy, which has been confined to the genres of horror, SF, and thriller, this poster tries to express the visual identity that contains the past and the future of the Film Festival, with particular stress on the 10th anniversary. To express the idea that this Film Festival is not just for filmmakersbut also for everyone, the poster used bright colors for its background: blue, red, black and white.

Established and managedthe Front Design Company
PiFan97 Design
Worked with the Design Team in Hyundai Motor Company
Worked with theDesign Team for the Space Institute
Environment Design for 88 Seoul Olympics
Multimedia Design for the Incheon Landing Operation Memorial Hall
Jeonju Sori Festival Design
Andong Maskdance Festival Design
Commemorative Sculpture Design 2005 Gwangju Design Biennale
SeNef2002
Design Chuncheon Puppet Show Festival Design
Graduated from Industrial Design Department,
College of Fine Arts, SNU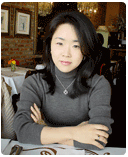 Interior illustration for Carrefour Anyang, and Daejeon Remodeling Projects
Cafelatte Package Illustration
Wall painting for Cafe BOUN
Christmas Decoration Illustration for 04" COEX MALL
S.J Duko> SACSNY Y'SACCS Bag & Magazine Ads Visual Illustration
Member of Idream Stock
Advertisementfor Samsung Economic Research Institute
LG Electronics Webzine
Daelim Apts. Advertisement
Advertising Design Department,
Graduate School of Industrial Art, Hongik University