Poster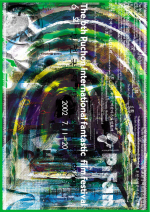 Download
As a way of promoting the in-house design team and ensuring that the poster reflect the characteristics and aims of PiFan, the poster for PiFan 2002 was designed by the festivals own staff. In addition, the festival committee hoped that the official poster project would be a good training for the design team for other projects for the festival.
Concept for the Poster
Love, fantasy, and adventure among these main themes of PiFan, the poster places emphasis on expressing the most appealing themes for young audiences: fantasy, adventure, and boundless imagination.

Design Goal
To emphasize PiFan's characteristic as a non-mainstream international film festival, the design aim was to convey free-spirited and poignant image.

Concept for the Design
The fantastic tunnel is expressed through the interplay of strong colors and subtle brush strokes, and by including the images of past PiFan official posters and newspaper clippings of the festival in the background, the poster traces the history of the festival. Moreover, the strong colors are contrasted to stimulate the spirit of adventure for the world unseen, and the balance of intense colors gives a sophisticated feel overall.
Through the use of unconventional expression and colors, the poster is intended to arouse not only interest and curiosity but also a desire to embark on an adventure through the tunnel to the world of fantasy.