Poster
"In a midsummer Puchon, the city is enchanted by the spectacular imagination"
In July Puchon, the bizarre pillars are arising by the power of imagination. In the back of the dull signboards, in between the ordinary buildings,the grotesque entrails looking pipes and cables are pouring out.
In the middle of the city, the eerie giantĄ¯s face with two different eyes has appeared. In July Puchon, no one can expect what will happen next. Bob Jang projects the image of Puchon, an adventurous city with lots of imagination and inspiration, onto his illustration.
Black and white and color series accentuate the powerful image of the genre film festival, specializing in horror, thriller, fantasy, SF and so forth. By using the duplicity of number 13, its disquieting character but also as another starting point, his illustration exquisitely presents Puchon as a fantastic and adventurous living world.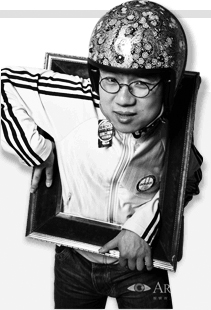 B.A. in Economic - Yonsei University / Pen-and-ink Illustrator
2009 Window and mural painting, Busan Haewoondae Centum City Shinsegae Department
2009 Canvas bag artwork, Bazaar and Coach (Collaboration work)
2009 Bob Jang Card, T-money artist public transportation card series
2008 F/W Bob Jang line, clothing brand Emboli
2008 Serial Publication Bob JangĄ¯s Imagination Design, The Chosunilbo
2008 Illustration, Public service advertising- briquette series
2008 Illustration, KB Card CF
2007 Poster Illustration, the film with a Girl of Black Soil (64th Venice International Film Festival International Competition)
2006 Car wraps and exhibition, BMW MINI Cooper