Festival Lady&Guy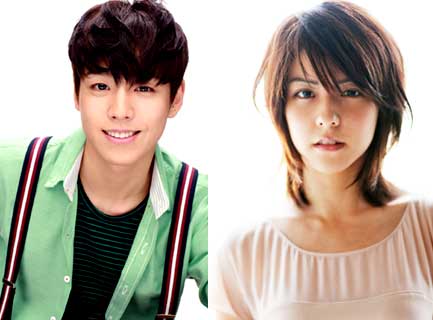 The 17th Annual Puchon Fantastic Film Festival is now revered as the biggest Asian festival that promotes marginalized genre films. Also for the 17th time, PiFan has chosen ambassadors that reflect the festival's personality of being unique and beautiful. Starting from veteran actresses, Su Yeon Kang, to the more recent Doona Bae, PiFan has consistently chosen ambassadors that put a lasting imprint on Korean film history. This year, PiFan has elected Hyun Woo Lee and the beautiful Mina Fujii as their spokesperson. This is the first time, PiFan has chosen a male and female pair to represent the festival.

The Guy - Sky is the limit for Hyun Woo Lee 'ÀÌÇö¿ì'
Hyun Woo starred in the recently record-breaking box office hit, SECRETLY, GREATLY. In this action-comedy, Hyun Woo plays a North Korean undercover spy disguised as a high school student. He has grown from being a lovable child actor to becoming a lot more mature. This year, as "PiFan Guy" he promises to keep challenging himself to get better as an actor, and also promote the passion PiFan initiates.
Filmography
Films
- 2013 Secretly, Greatly
- 2010 Antastic Theater
Dramas
- 2010 KBS Master of Study
- 2009 MBC Queen Seondeok of Silla

Awards
- 2013 Art of Positive Energy Night's, 'New Energy Award'
- 2012 SBS Drama - New Star Award
- 2008 KBS Drama - Youth Actor Award

The Lady - Perfectly beautiful on the inside and outside, Mina Fujii 'ÔöïÌÚ¸óø'
Mina Fujii is a regular on a highly popular Korean show called 'We Got Married: Global.' Fujii was born in San Diego, CA, but grew up in Niigata, Japan. She has been in Korea for only a year, but she has impressed many with her Korean fluency. As PiFan's newly appointed ambassador, Fujii promises to study harder, and become a more established actress.
Filmography
Films
- 2010 KyOfu
Dramas
- 2013 Another Wedding
- 2009 Strange Story 2009 Spring Special <ᦪ˪âÐôÙتÊÚªåÞ '09õðªÎ÷åܬøº>