17th Film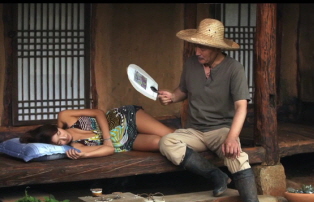 Subject : Oldmen Never Die Á×Áö¾Ê¾Æ
Director : WHANG Cheol Mean (Ȳö¹Î)
ETC : Korea/2013/107/HD /Color
Ji Hun is in his late twenties. He turned to farming four years ago because he is after his grandfather's money. However, his grandfather is getting younger and younger like he will live forever. He has exhausted by labor, and tried to escape to Seoul, but changed his mind in one night. He is trying to gather up his mind, but an unexpected guest appeared.



WHANG Cheol Mean (Ȳö¹Î)

He graduated from German Film Academy. His graduation film, Fuck Hamlet(1997) was screened at Berlin International Film Festival. His major works include Spying Cam(2004), Moscow(2009) and Morning Glory(2012) which won several awards at numerous film festivals.